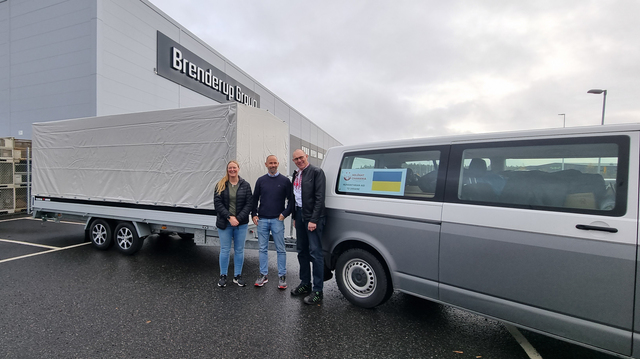 Brenderup AB donates trailer to Ukraine
11/17/2023
Brenderup donates a trailer to Ukraine through the Solögat Chamania charity. The trailer will help transport humanitarian aid from Sweden to Ukraine and assist people on-site in Ukraine.
The Solögat charity was founded in 2018, and since the outbreak of the war in Ukraine, they have been working to assist people on-site. The trailer being donated is one of the largest in the Brenderup assortment and is equipped with a high cover.

"The trailer will be packed with furniture, hygiene articles for the elderly, medicine, and Christmas gifts for children who have lost one or two family members. We are truly thankful for this support from Brenderup; it's exactly what we need to transport humanitarian aid to Ukraine and use it for internal transports on-site", says Per Åkerblom, a volunteer and driver at Solögat Chamania.

Since the war in Ukraine broke out, Brenderup Group has been helping Ukrainian employees in the factory in Wielen. This is the first time a trailer is donated.

"I am proud that we can support Solögat Chamania in their important work to help the people of Ukraine. It feels valuable that our product – a trailer – can be used in this important way", says Daniel Blom, Managing Director at Brenderup AB in Jönköping.